Slideshow
Other top rated products
4.9 star rating
491 Reviews
Very soft, great quality, perfect
Review by Shawna M. on 7 Jul 2020
review stating Very soft, great quality, perfect
Very soft, great quality, perfect for carrying her while doing anything! We love it!
Though I haven't had a
Review by Rachael G. on 10 Jun 2020
review stating Though I haven't had a
Though I haven't had a chance to use it yet, I'm not due till September lol, I am happy with the quality and it's super soft. My best friend had one when she had her little one and loved hers. So I got mine based on her recommendation.
Absolutely Stunning!
Review by Deborah T. on 4 Jun 2020
review stating Absolutely Stunning!
This is a beautiful wrap! I haven't actually used it yet as my baby is a premie. But once she gets a bit bigger I cannot wait to take her for walks in it. It is so soft, and the style is stunning. I am so happy to support Canadian made. This was a gift.
Highly recommend! :)
Review by Kassidy L. on 26 May 2020
review stating Highly recommend! :)
I was very happy with how fast the wrap arrived. This was my first time ever using a product like this, I was so impressed with how soft the fabric was and the amount of fabric you receive! It was pretty easy to use, I was able to do it on my first try. I was getting so sore in my back and arms after carrying my daughter around, but this product has made it so much easier to do things around the home or outside. It gives you better posture and allows you to be more hands free while comfortably holding your baby! My daughter falls right asleep when we use this wrap, I highly recommend it! ❤️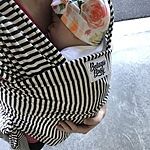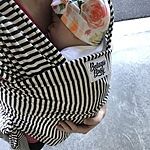 Great Wrap
Review by Laura J. on 22 May 2020
review stating Great Wrap
We have been very happy with our Beluga Baby Wrap and our little girl loves the grey and white stripes!
Q: I have a 4 month old who is 20 pounds. Is this really only suitable for up to 25 lbs??
A: Hello! Yes, our wraps really work all the way to 25 lbs :).
Q: Do all your wraps only go up to 25 lbs?
A: Hello! Yes, our wraps are ideal for the first year of your baby's life, from newborn to 25 lbs.