Slideshow
Other top rated products
4.9 star rating
301 Reviews
I don't know what I
Review by Dianne C. on 20 Mar 2020
review stating I don't know what I
I don't know what I think it is a shower gift for my step granddaughter and she requested it but we can't have the shower yet. I am sure it will be great.
Great quality! Looking forward to
Review by Rachel T. on 1 Mar 2020
review stating Great quality! Looking forward to
Great quality! Looking forward to using it this May !
PERFECT!
Review by Madison P. on 27 Feb 2020
review stating PERFECT!
I bought this for my new winter baby girl (January 2020) and LOVE IT. I have various carriers but find she is comfiest in this one! I often put it on before I leave the house because it's not too bulky and I wear it under my coat. That way I can take her right out of the car seat and into the wrap. It even made an appearance during the provincial wide teacher strike a few weeks ago. Love it! I would definitely buy another one!
Great quality 💕
Review by Vanessa B. on 23 Jan 2020
review stating Great quality 💕
Love the fabric very soft and pretty! Not too hot super happy about that! And Helps with colics.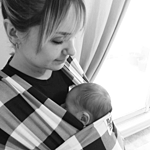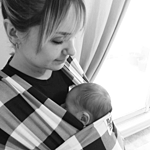 Love it
Review by Heather K. on 3 Jan 2020
review stating Love it
This wrap is perfect for me and my month old baby! I've only tried the one way to wrap so far, legs in, but it's been great for me to be able to get some stuff done around the house while still holding him since he really dislikes being put down.
It took me a few tries to be able to wrap it properly on my own but it's not hard at all once you've figured it out.
I would definitely recommend it to others (and have) and will likely purchase another one!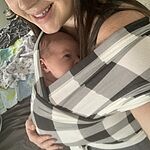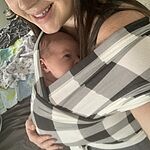 Q: When will this be back in stock?
A: Hi! This colour will restock in about 1-2 weeks :). Cheers, Haley